Round 5
The second two-day meeting inside of a month, coupled with two other big drag meetings on the same weekend meant that our regular numbers for NSCC ought to have been significantly down, yet come qualifying there were still thirteen cars out to post their stakes for the fifth round of the championship.
Paul Everitt was back with the patina'd Pop, having replaced the 4-speed manual trans since its demise at the last meet. Despite his efforts there were still some problems afoot and he was well off his usual pace, a 16.3 leaving him in down in twelfth spot ahead of Mark Pressland's stalwart 100E Ford, making its first return to the quarter mile of the season.
Newcomer Terry Morgan brought some interesting tin to the table, a 302 Ford-powered rat rod looking tough and clocking in at eleventh. Tenth was Nigel Hendersen, whose new school of thought was to load 6000rpm on the little Toyota four-pot in his Anglia, and then side step the clutch. This fishtail-inducing and highly entertaining practice netted him a NPB of 15.75 @ 83mph.
Also chipping a few tenths off was Andrew Frear, his mental black Cummins-powered Bronco in at number nine spot. A late qualifier from Lee Openshaw after a drunken night of trying to stick his finger up Tom Barker's arse, saw the Punto cosily snuck up behind his buddy in eight and seventh respectively. Tom's qualifying run of 14.22 was quite incredible, not least because he managed to run a NPB with one of the front wheels not-particularly bolted to the car. Fortunately Lorraine Dixie Copeland from Team Walley came to his rescue and showed him how to tighten up wheel nuts properly.
Returning to the track, twice-champion John Peace, still had some issues to resolve with the supercharged Fox Mustang, but a 14.22 @100mph was enough to put him in the top half of the ladder, just behind Paul Hughes' very impressive little MR2 which was knocking on the 12-second door. Into the Big Boys territory and Doug Hague's Skyline posted a 12.53 @ 118mph to just be pipped by 3/100th second by James Murray in the Rover-powered Cortina estate. Derek Beck pilotted the TVR to number two spot with a stout 11.81 @ 119mph and Ian Walley laid down the fastest run of the two sessions with a 10.90 @ 130mph.
Eliminations saw Paul Everitt as the first casualty, unable to stage with a broken clutch master cylinder and allowing James through on a solo pass. Ian Walley also scored a bye run, though not as the result of anybody's misfortune. Bedtime buddies Lee and Tom cosied up for their first tiff and Tom stormed off in a huffy 15.33 whilst Lee's almost-matching 15.32 was usurped by the time it took the dozy twat to spot a green light and go. Almost as slow off the line was Terry's Morris against Doug's Skyline, ending his day as a result. Paul got another NPB of 13.02 in the turbo'd Toyota, putting Nigel's ANglia out of the frame for the day. Derek nailed a convincing win against Mark's 100E and in the final pairings Andrew's Bronco exitted to John's Mustang, despite the old 'smoke screen ploy' on the start line!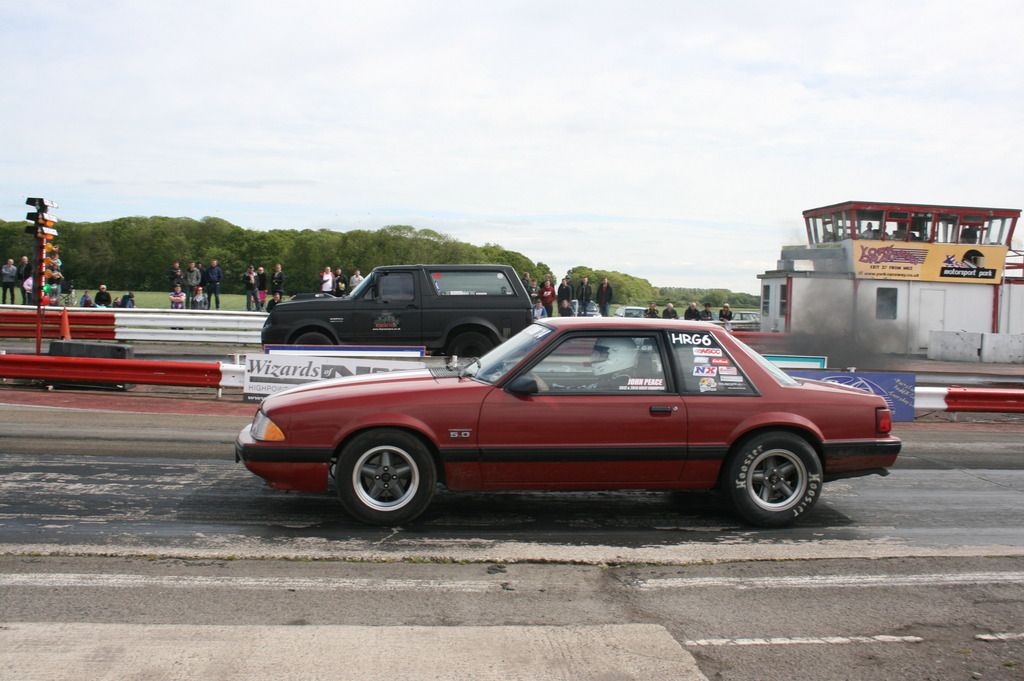 In round two Mr Walley ended Tom's reign of loose-nut supremacy and James Murray found himself a second and a half clear of John Peace. Derek's TVR scored a bye run whilst it was Doug ho had to work the hardest, a 12.18 @ 115mph taking out a massively improved 12.69 @ 108mph after Paul turned up the boost on the blue MR2.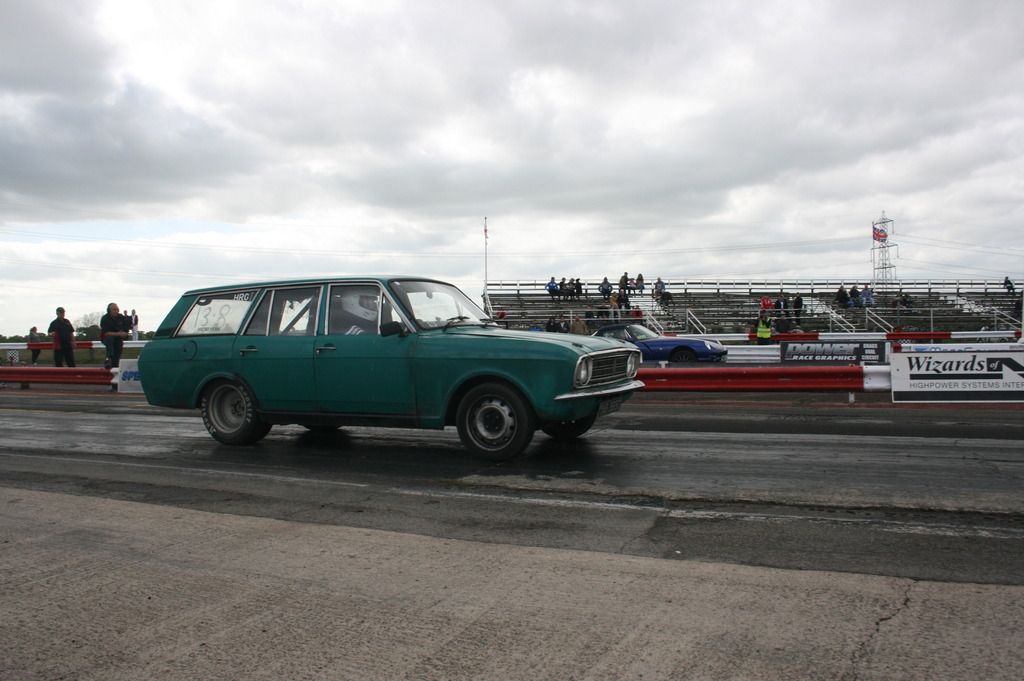 The semi-finals put Doug and Ian together, another rapid 12.15 @116mph bested by the yellow Cortina, posting another high ten but still trying hard to carry the nearside front wheel at least to the eighth. Derek upped his game to record 11.44 @ 120mph to take out James' Cortina.
The finals saw nitrous'd TVR against turbo'd Cortina - once again Derek upping the ante with a 10.78 @ 129mph, sadly leaving a cherry on the tree to hand victory to Ian's 10.67 @130mph. Would have made a great race!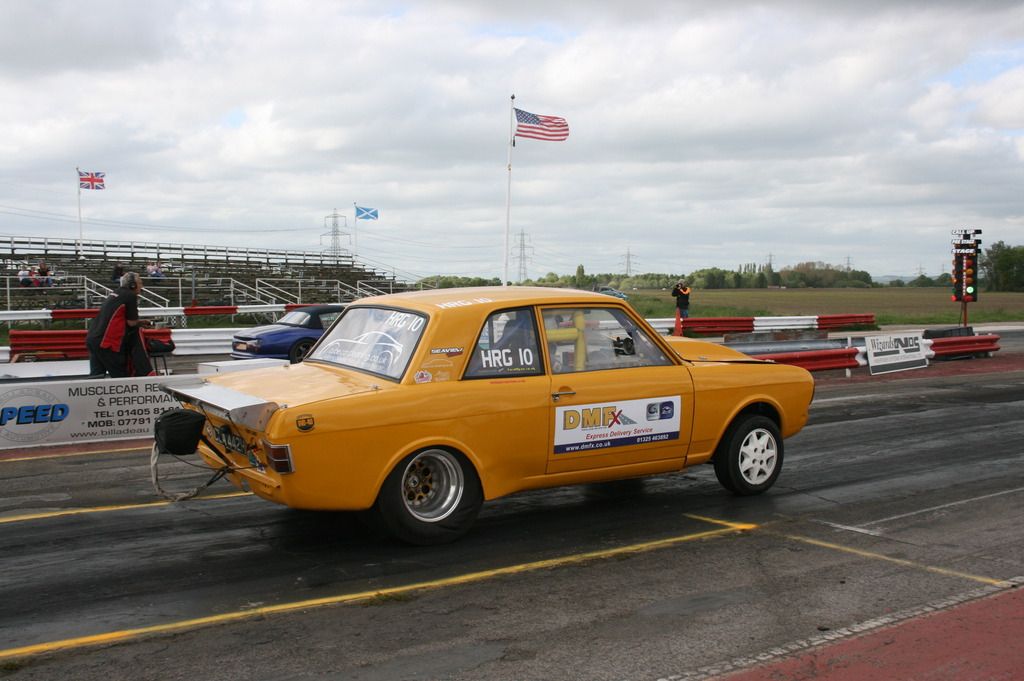 The evening cruise up to the Barnes Wallis was well-attended (funny how a good scoff can do that) and oce again the pub did us proud. No casualties from the twenty-four mile trip and back to a trio of bands in the marquee, courtesy of the VW club in attendance for the weekend. Once again, a superb day.