NSCC Round #2
6th April 2015
Following all the dramas of the previous day's racing there was a certain amount of trepidation as an early call for qualifying was made in some glorious sunshine. Track conditions were noticeably better and where two of the previous day's contenders fell by the wayside (Jamie Hughes with engine problems in the big block Defender and Ian Walley still doing post-fire repairs in the Cortina) these were replaced with Keith Freeman's blown 32 Ford and Andy Frear's rather bonkers diesel Bronco.
With no messing about Andy Hadfield set number one qualifier, straight out of the box an 8.21 @ 170 mph – but an ominous noise at 1000 feet turned out to be damage to one of the cylinder head/rocker studs and that would be the unfortunate end to a rather unlucky weekend. Russ Pursley's Dutton managed to nip into the second spot but had to really work for it as Keith's yellow Deuce was just four-hundredths of a second behind. Derek Beck was understandably taking a cautious approach to the day, running without nitrous in the TVR but still good enough for fourth place, narrowly ahead of James Murray and Douglas Hague. Andy Frear's Bronco would qualify fifteenth with a 15.82 @ 83mph, utter madness from the massive machine which looked like a movie cast-off from the new Mad Max film.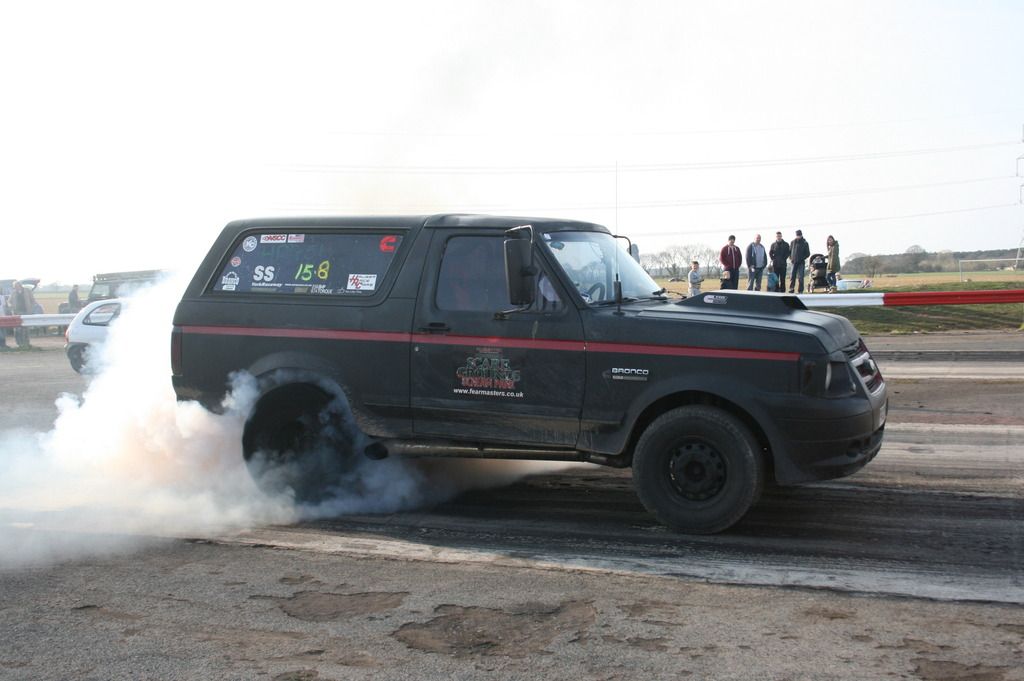 No real upsets in the first round of eliminations, except for Steve Gilmour who pulled his second cherry of the weekend and gave Paul Everitt's Pop a free run to the next round. Nige Hendersen's 1600 Toyota-powered 105E was on good form with a 16.17 though not nearly good enough to stave of the yellow 32, Keith presenting a solid 11.77 at the finish line. Douglas Hague's Skyline was again the end of Andrew Errington's day, another 12.5 showing consistency from the bright orange machine. The Dutton took out Rick Swaine's Viva with ease, whilst once again Mark Butterworth's Fox Mustang ended Biff's run for the second day on the trot.
Phil Winstanley was really enjoying the new cam in the Morris Minor, finding much better torque and drivability, taking out Tom Barker's Astra to go through to a bye in the second round by virtue of Twister's no-show. Andy Frear's Bronco bowed out to the TVR and Shaun Wilson's Model A was no contest for James' V8 Cortina estate.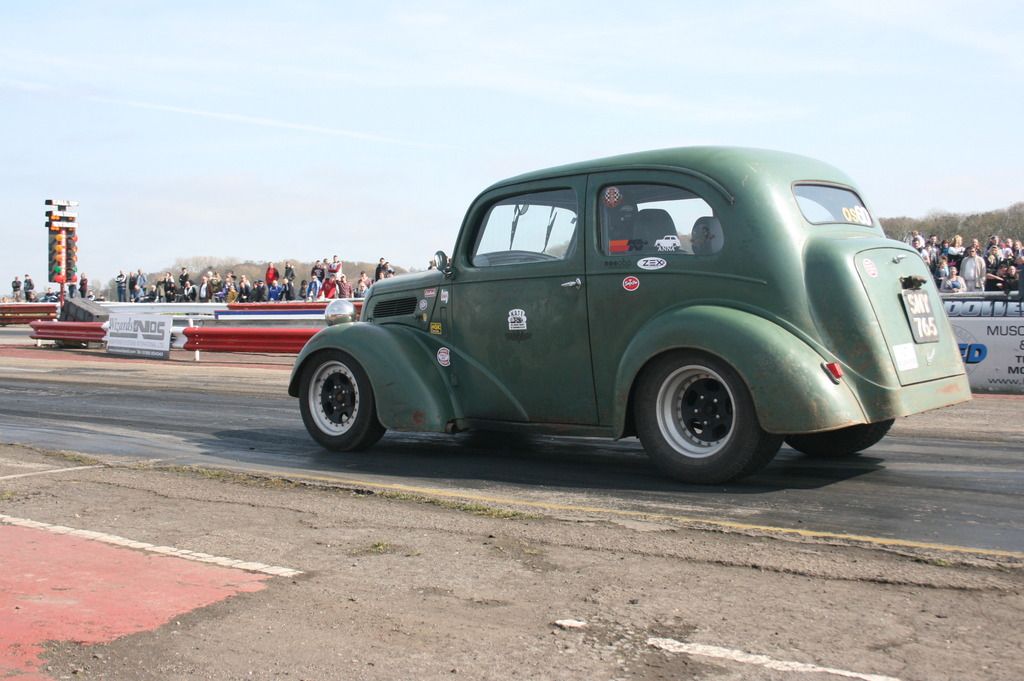 Round two saw byes for the Dutton and the Minor, whilst Paul Everitt's day ended in a confrontation with the yellow 32. Mark Butterworth's Mustang gave Derek's TVR a good run for his money, but the TVR was to the line first. The closest race was between Jame's Cortina and Doug's Skyline. Amazingly the Cortina got off the line better than the Nissan (how the hell does he do that?) and to a 12.58 against a 12.63.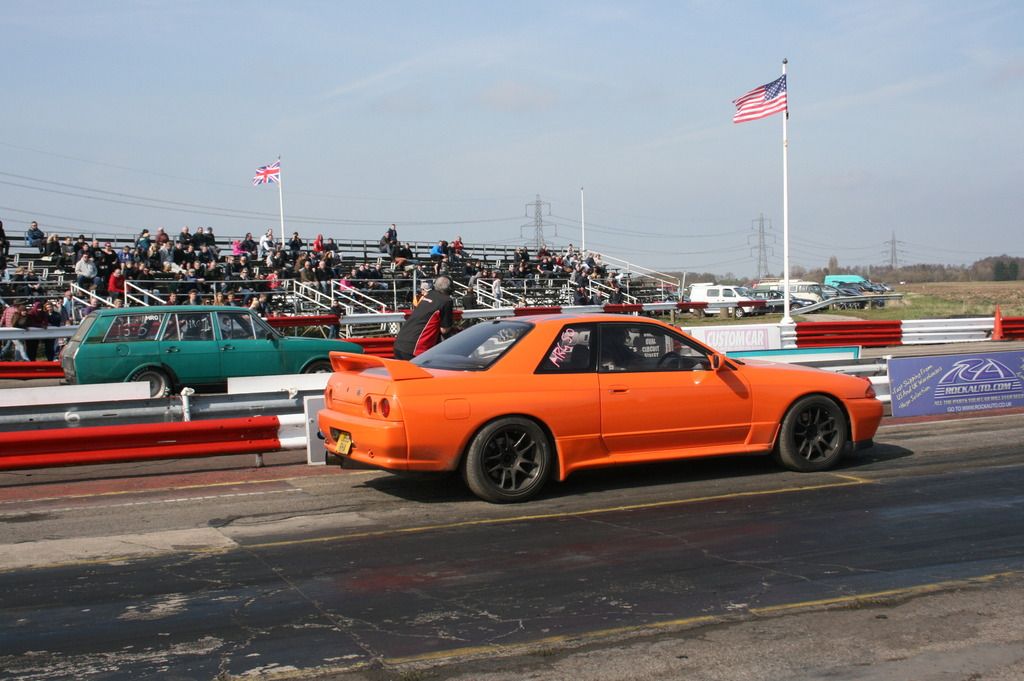 There was some good breaks between rounds (apart from those running in Sportsman as well as NSCC) and even with James' Cortina having little rest he was able to see off Phil's Minor in stout form. Russ Pursley and Derek Beck were ordered to play nicely together and no shoving each other off the track, neither competitor looked like they'd be backing down though and both were sharp away with .6 reaction times. Russ was back in the tens and took the win, a few tenths ahead of the TVR, which just left Keith Freeman to complete the pairings with a bye run into the semis.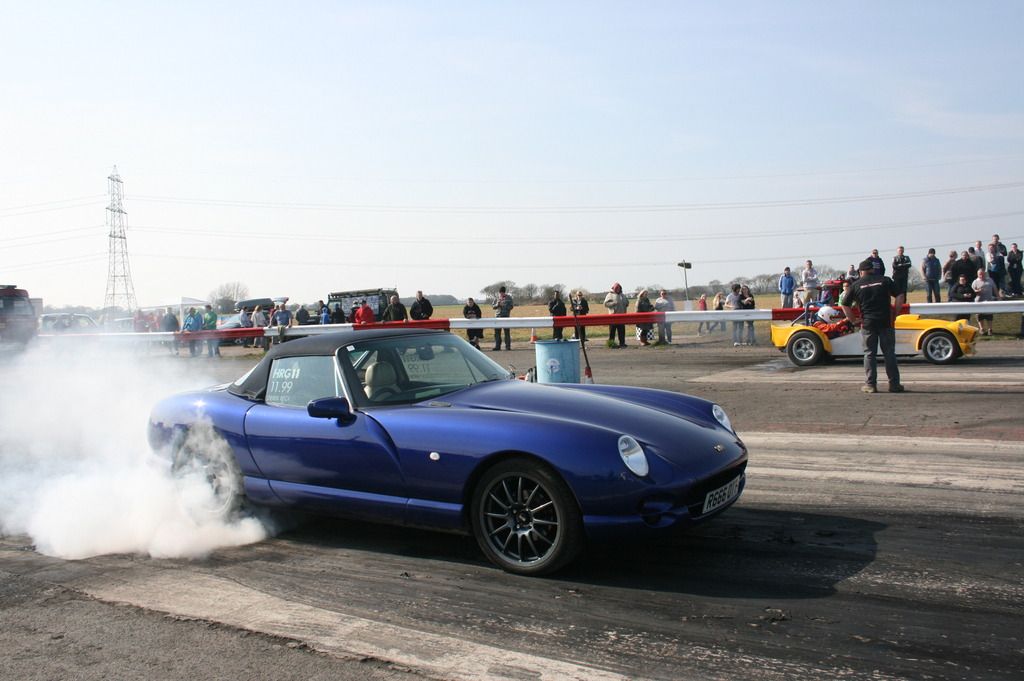 Fortune smiled on Mr Murray in this round, as he found himself on the bye run whilst the two yellow perils of Pursley and Freeman paired to do battle. On paper it was a close run thing, but Keith's reaction time killed his race and even a strong 11.32 @ 118mph couldn't pull back a half second snooze.
So the finals came to be Cortina versus Dutton, 3.9 litres of Rover power against 6.4 litres of Chevy. Russ' times had been dominant all day and he was a cool customer on the line, cutting a steady and safe light followed by an 11.01 @ 122mph to take victory against a weekend best of 12.47 @ 113 for James.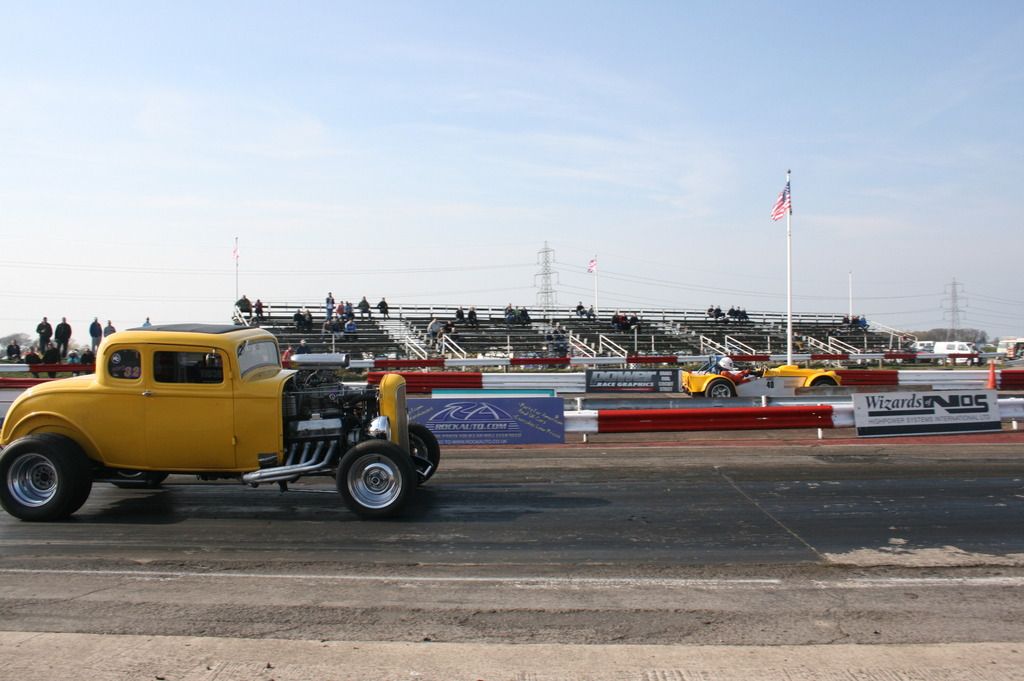 With two outright wins in two races, Russ shoots to the top of the leader board ahead of Phil Winstanley's Moggy. Derek and Douglas tie for third spot with another twenty cars already on the scoreboard. It's gonna be a good year!