NSCC Round #1
5th April 2015
With a half-decent weather forecast for the traditional Easter season-opener at York Raceway there was the usual last minute panic of activity into getting cars finished, prepped, polished….unless you were James Murray, in which case the day before seemed like a good time to fit a new engine….
The evening before the race was made truly fantastic by the lads from the Queen Adelaide who'd all banded together and put on a massive barbeque for everybody. When I say they'd banded together, we all secretly knew that somewhere in the depths of Manchester there was a butcher's shop with the alarm bell still ringing, but we were nevertheless very grateful for their efforts and a special shout out to John for doing the cooking, feeding the five-thousand and providing us with Stamperisms all night.
Derek and Ben had, along with the TVR and Thunderbird 2, brought a big bottle of Captain Morgans which we were to pass around and drink to the memory of Tony Morgan, who we sadly lost last season. It's great to see his lad, Ben, joining Derek as his pit crew and keeping the flag flying.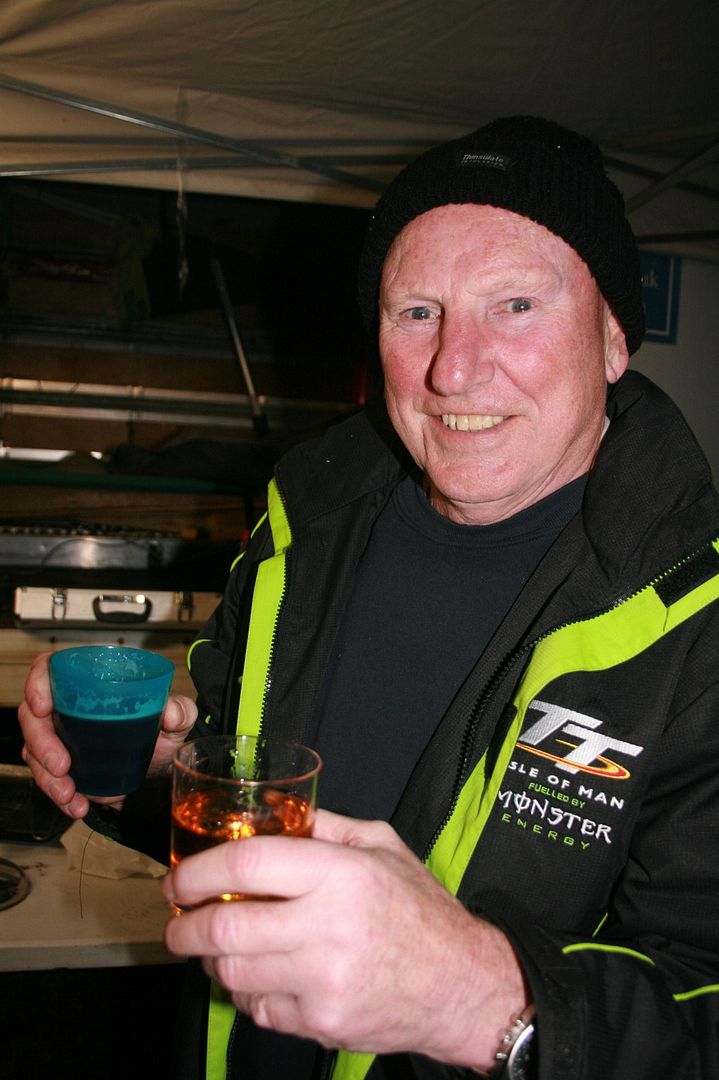 Along with the Captain Morgans doing the rounds, Simon Boot was passing around his usual pint-measure shots of a caramel vodka, which had the smooth taste of drinking an Easter egg, followed by the after kick of having your skull cracked open with a house brick. And speaking of Easter, Sandra-Lee turned up wearing bunny ears – sparking some speculation as to whether she had just finished her shift at the Playboy Ranch. However this was discounted as when we checked out the Playboy Ranch, Hadfield had already gone to bed. I could tell you how the midnight hours of toiling on engine preparation on the Twister had caught up with him, but I suspect the bottle of Jack he'd emptied within an hour might have also colluded in his coma.
At 2 a.m. James rolled in with the trusty old Mk2 Cortina Estate. Quite early by his standards.
Sunday's weather started off looking quite promising. All the nice caramel vodka had left my body, but the house brick was still rattling around in my head. Still, with a free morning of track time before afternoon qualifying there was plenty of scope to ease gently into the day.
An excellent field of seventeen cars for the first outing, with a couple of new faces to the ranks, really made for a great spread. Qualifying was delayed when the Bonzai Cobra made a nasty right turn into the barrier and was comprehensively totalled – fortunately a full tube-frame car from which the driver emerged totally unscathed.
Everybody managed to put in a qualifying run, although James then suffered an oil pressure problem and was unable to make eliminations as he and Dave rushed off to buy a tub of Vaseline to pack the oil pump. Two grown men in such a panic to buy Vaseline. I can't even begin to tell you the mirth this created amongst us. Still, one man's unlubricated hole is another man's pleasure – and in this case it was Phil Winstanley who was smiling as he sauntered his way to the second round uncontested. Also uncontested and on a bye was Mr Hadfield although nobody could accuse him of sauntering as he laid two black lines the full length of the quarter with a solid 8.28 @ 171mph.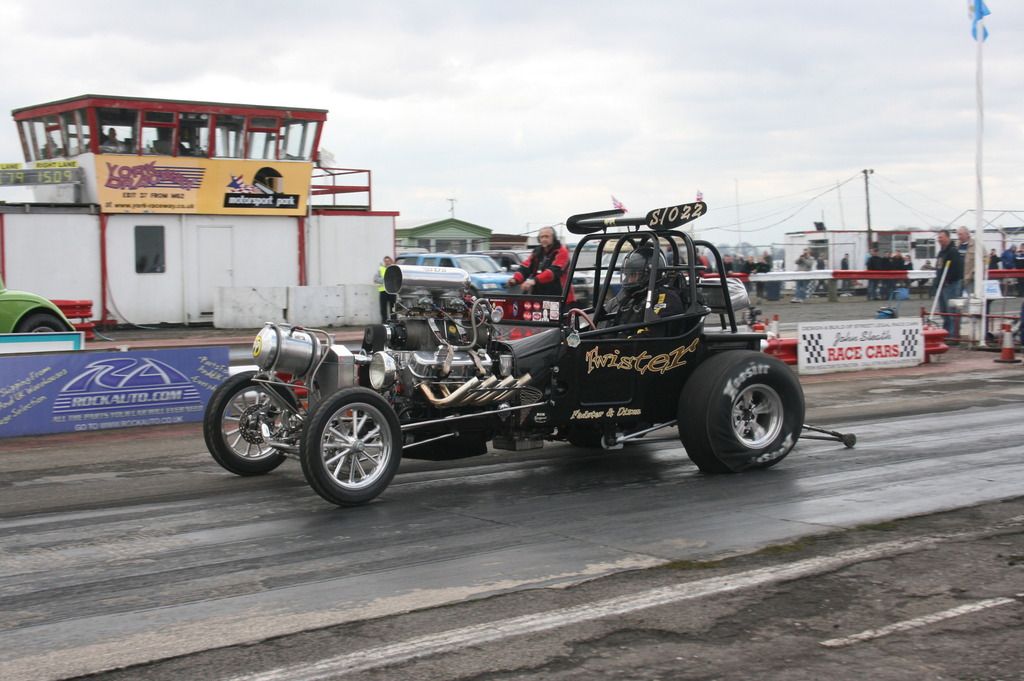 Andrew Errington has traded driving his TVR for Gasket's old Mustang SN95 this season, and whilst getting to grips with his new car he found himself paired up with newcomer Douglas Hague in a bright orange Skyline. Doug's done a fair bit of racing in RWYB and certainly knew how to launch the Nissan, all four wheels spinning up as he laid down an impressive 12.76 to out the ever-improving Andrew's 15.60. Shaun Wilson's new ride for the season came in the sweet little form of a 2.9 Cologne-powered Model A Roadster, not exactly a drag strip car on its narrow crossplies but an absolute bundle of fun and Mr Gasket was still grinning at the end of a Cerbera-pasting at the hands of Derek Beck. Derek's 12.52 @ 110 mph was heading towards his previous naturally-aspirated best, but Gasket's 15.78 @ 82 was a NPB for the little rod.
Mustangs all the way in the next pairing of Mark Butterworth and Steve Bailey, the blue Fox taking victory over the SN95 model. Russ Pursley halted Nigel Hendersen's fun as the Chevy-powered Dutton stormed to victory against the 2015 runner-up Anglia.
Paul Everitt only ran at one meeting last year, but it was great to see his subtle patina'd Pop out again in the ranks…unless you were Tom Barker in which case it wasn't so great to see the back of the Pop as they crossed the finish line. Ian Walley's potent Mk2 Cortina came out in fighting form to post an 11.14 @ 130 to take out Rick Swaine's patchwork Viva and Steve Gilmour fell victim of a cherry in the quick Pinto-powered Cortina to hand an easy victory to Jamie hughes who just coasted through with a 16.11, some six seconds off his best.
The second round witnessed some upset as Andy Hadfield's starter motor fell apart before he could make the pairings and Jamie Hughes had to retire the wild LandRover after the big block Ford powerplant developed a nasty knocking from the top end. Phil Winstanley was again a benefactor of this, as was Paul Everitt – both through to the next round. No easy ride for Derek Beck this time, he had to get on the gas to cover a hard charging Skyline, the TVR netting its quickest time of the weekend with an 11.80 @ 122mph. Mark's Mustang had no answer to the Pursley misile as Russ notched up another round victory.
Round three and the Derek was back running naturally aspirated with the Cerbera, a 12.76 covering Paul's Pop which posted a 13.9 (both cars Rover V8 powered). Russ found himself with the luxury of a bye run whilst Phil Winstanley's Moggy went out to Ian's Cortina, though plume of smoke from the Cortina as is crossed the finish line did not bode well and very shortly after, with the fire engine heading to the scene, Ian pulled the on-board extinguishers as a burst transmission line caught light. The value of such a system was clear to be seen as the Cortina was towed to the pits completely intact with only a very small amount of pipework and wiring to repair as opposed to the kind of massive damage that a fire can bring. Well done Mr Walley, good call.
Some downtime in cleaning the track meant that the semi-finals were quite late and as both Russ and Derek had byes to face each other, they elected to simply break the beams and then re-stage to run the finals. Boy was this one to remember! Derek was a man on a mission and cut himself over four-tenths on the tree, with the TVR absolutely planted into the tarmac and off like a scalded cat. Russ' reply was a bit too much hoof and wheelspin and it really looked like the TVR had bagged it. At the top end the Dutton was absolutely flying and at the finish line Russ pipped the win by 11/1000th of a second, 10.72 @ 137 against 11.06 @ 123! But where the race ended, the drama started and the TVR veered left, clipped the grass and then went into a 120mph spin across the track and into the opposite field. Fortunately both Derek and the car was unscathed in the incident and a new pair of shorts later, all was fine.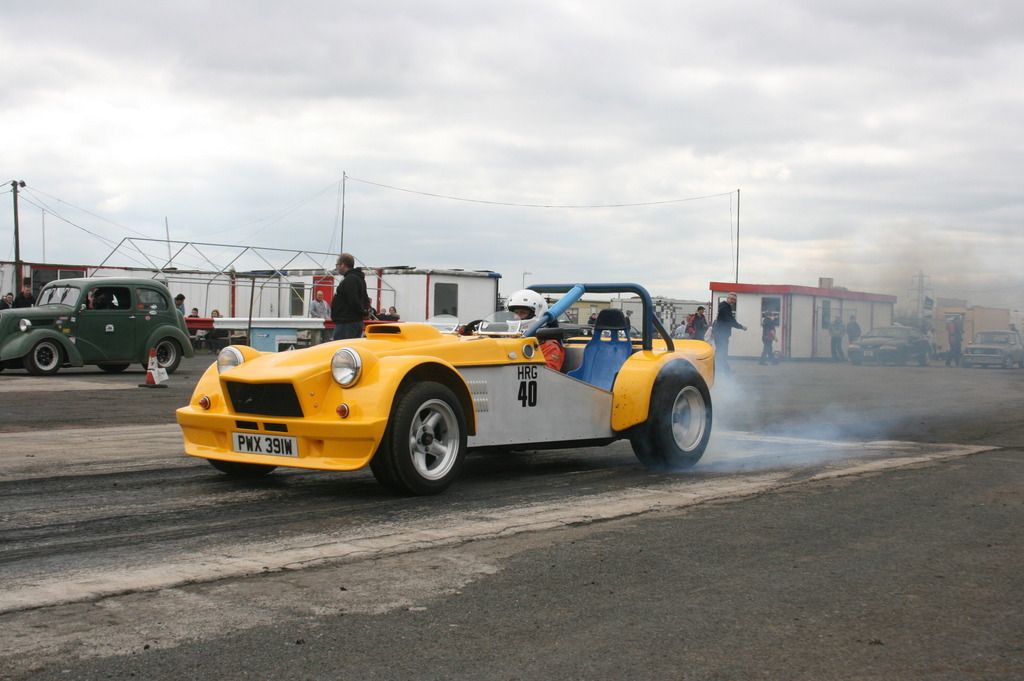 With far too much drama for one day a bunch of us made the cruise out to The Barnes Wallace to scoff some great food and admire the landlady's chest, as has been our habit for several years now. Back at camp and we drank around the campfire and watched Andy Hadfield set fire to people's children. Well we had pretty much run out of anything else to put on the fire if I'm honest about the situation. When the embers went out and the children were extinguished we adjourned to the York bar which this year is being run by racer Claire King – and fair play to her for standing in at the last minute to enable the place to stay open. Not only is she giving her time for free, all of the bar profits are going into the PDRC pot to benefit the track. Three cheers for that gal.
And so with the midnight hour long-gone and the temperature down to pretty-fucking-cold we headed for our tents in anticipation of Round Two…..